New Plone Themes
Fresh Plone themes for you to try out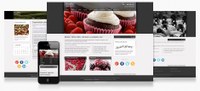 Today we would like to present new Plone themes for you to try out. Those include premium:
and
All Plone themes have a great design and are easy to customize with our tutorials. Along with options that allow you to customize design elements, colour schemes and  traditional Plone Theme functionality …all these themes are Responsive, which means they work smoothly on mobile phones.
See Plone Themes section for instructions about how to activate different Plone Themes on this demo site.
Enjoy !