Custom Plone Themes
Discover Plone is a new design: 7 custom Plone themes added.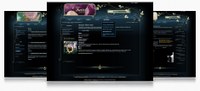 Quintagroup Plone Themes
We are glad to present you an opportunity to see Plone in quite different design! We installed our seven best Quintagroup Plone Themes for your use. They are all very different and include a bunch of theme-specific features.
See Plone Themes section for instructions about how to activate different Plone Themes on this demo site.
Enjoy Plone new look!