5 More Diazo Plone Themes
5 more Plone diazo themes were added to Plone 4 DEMO site. From now you can activate these Plone themes to see and feel their real look.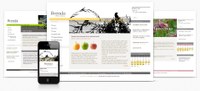 New Plone Themes
There are 4 new premium Plone Themes activated on site, these are: SkyCream, GreenJet, Flow, and BrendA Plone Themes.




And one new free diazo theme, WhiteBlack.

To change default Plone look on this website and see another theme alive:
Log in with username & password form the front page of this website
Open user menu on the top right corner and go to Site Setup -> Diazo theme
In the Select a theme list select one of the available Plone themes and click Save at the bottom of that page
Return to site's front page to see the new theme applied
Enjoy site's new look :)